Types of Office Tables to Use for Your Work From Home (WFH) Office
Many professionals who spend countless hours sitting at a desk can definitely attest that having the wrong work desk can cause low back pain or worsen an existing back problem. Without the right work desk, people are more prone to slouch and bad posture can overstretch the spinal ligaments and strain the discs and surrounding structures in the spine. According to an article by WorkDesign, a recent study by the American Chiropractic Association showed that in the U.S., back pain accounts for more than 264 million lost workdays a year. Over time, the wrong posture can damage spinal structures and contribute to or worsen back pain. Using the right table can help you avoid these. Good thing that we compiled a list of tables that you might find useful. 
Did you know that there are many types of office tables that serve every person's needs and desires in a workspace? From only needing a simple table to having one with multiple storages, here are the pieces of furniture you can use for your home office:
#1: Writing Desk

Source
The writing desk is a small and straightforward office table that simply provides space to do your work. It usually does not contain many drawers and extravagant designs. It is made for light use such as working on your bills and checking your emails on your laptop.
#2: Computer Desk

Source
Like the writing desk, a computer desk is also a straightforward office table. The only difference between the two is that the latter is larger than the former. It provides space for your computer and its essential parts such as CPU, keyboard, cables, etc. Thus, the table is recommended for serious computer users that prioritize function over form.
#3: Roll-Top Desk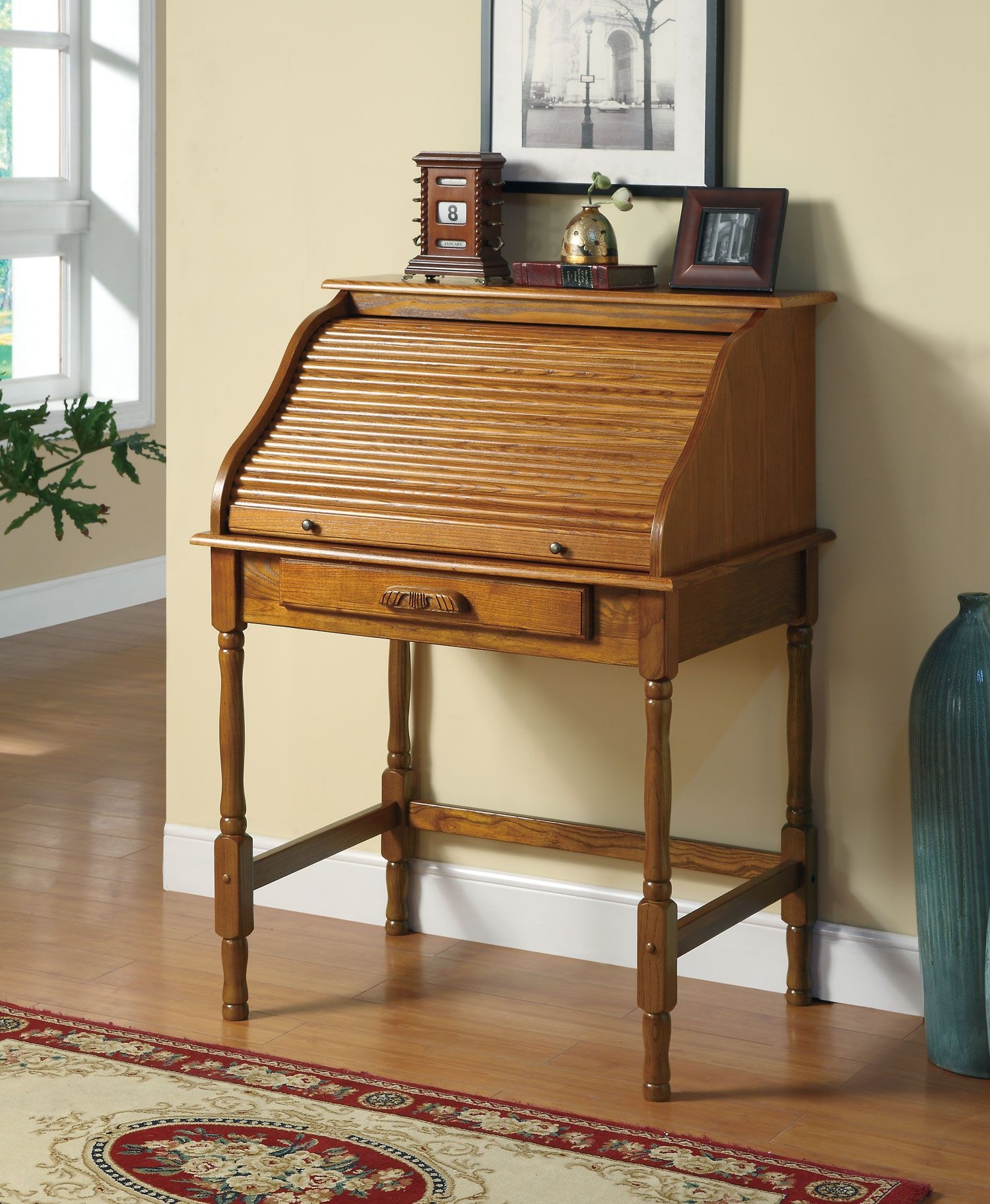 Source
Roll-top desks are usually antiques made of wood. The reason why the office table calls itself such is that it has a roll-top lid. When you lift the roll, the desk and its compartments unfold before your eyes. If you love to keep your desk clean and dust-free with additional storage, this one's for you.
#4: Secretary Desk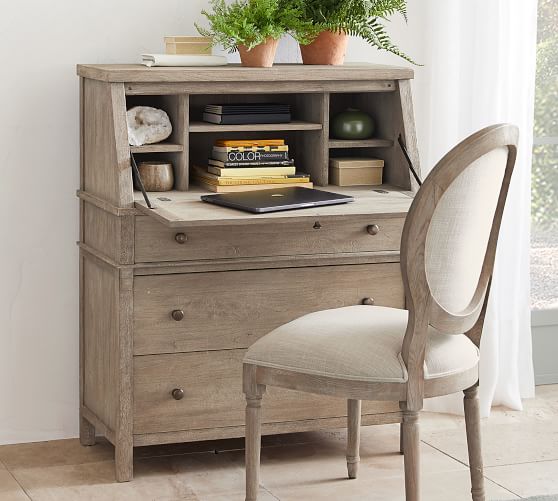 Source
Secretary desks are similar to roll-top work surfaces. Instead of rolling the lid up, you pull the hinged top-down to work as an office table. The furniture is multifunctional: when the desk is not in use, and you put it back up in its proper place, it works as a tall drawer for storage. 
#5: L-Shaped Computer Desk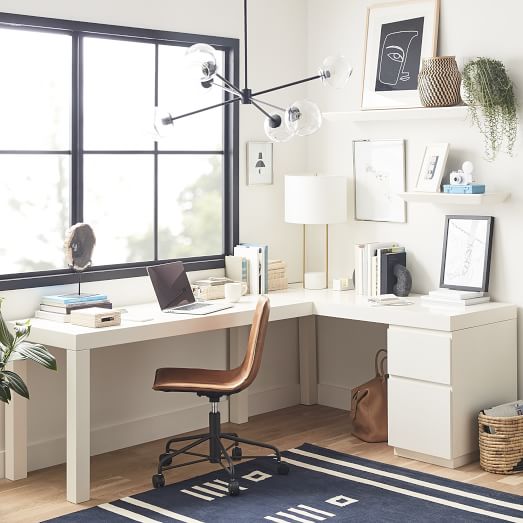 Source
An L-shaped computer desk has two sides that are perpendicular to each other. It provides an extra workspace while keeping your office materials within reach. This office table is perfect for you if you have a big office space and you want to take up room for your office materials and technical equipment.
#6: Standing Desk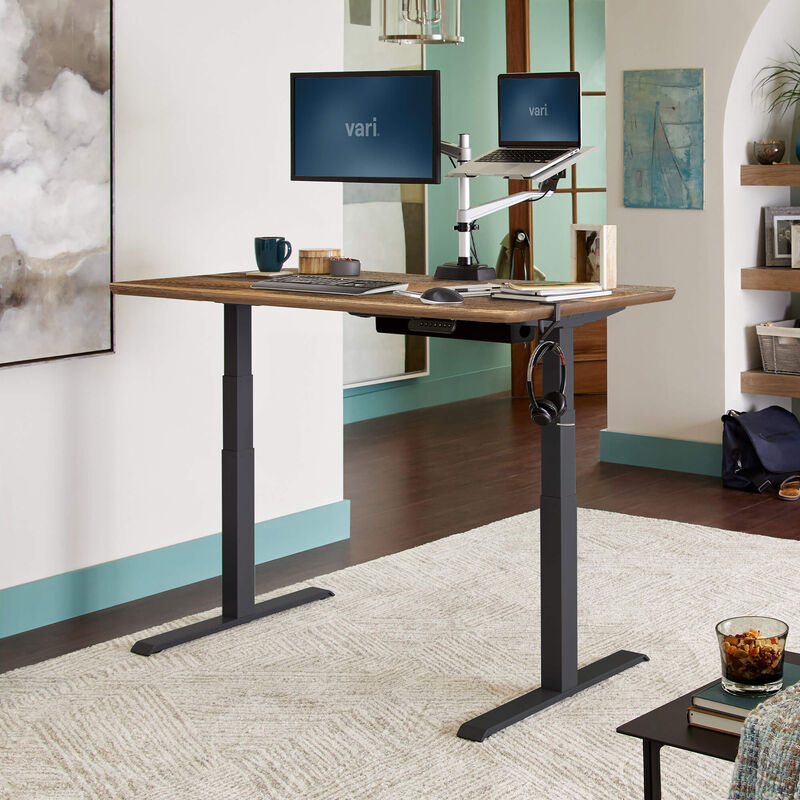 Source
A standing desk is an office table with an adjustable height. As there are many dangers of sitting down for extended periods, this type of furniture allows the user to stand up while working. This worktable is beneficial for users who want to contribute to improving their health by finding ways to sit down less.
#7: Dual-Sided Desk
A dual-sided desk is an office table that is for two people. It provides a wide surface for you and your client. It can contain enough desktop and writing space for both users. If your work entails meeting people at your work table, you might need this. 
#8: Floating Desk

Source
A floating desk is an office table that is installed on the wall. It has no legs. Thus, it gives the impression that it is floating on the floor. This piece of furniture is perfect for users who love to save space and experiment with design, especially in their home office. However, they must remember that they should not store heavy items on the surface or else they will fall.
#9: ExecutiveDesk
The executive desk is the most grandeur desk among all office tables. It has a large surface area, it contains many compartments, and it has an elegant design. If you have a large space inside your home as you love to look imposing with all of your work materials within your reach, this piece of furniture has it all. 
If you want to find the perfect desk for you, ask yourself your priorities in a workspace. Do you like a minimalist design or a maximalist design? Do you have the right budget? And what are the most important functions you're looking for in an office table? Know your main goal when deciding to buy or improve your table and you will know the answer to finding your perfect desk. 
To know more about improving your home office, read our article Types of Office Chairs to Use for Your Work From Home (WFH) Office to find the best office chair that complements your desk.
And if you're looking for the perfect company to complement your career goals, follow @SourcefitPH on social media. 😉